Home

| Board | Calendar | Classes | Club Bio | Email List | Events | Fees
Wilde Bunch: 2023 Square Dance Classes/Dance Nights
New Basic Square Dance Class begins
Monday, January 23, 2023, 7PM!
See details here!


Click here to receive notifications about classes and events

Most recent C1 class began Tuesday, January 8, 2019
and graduated December 16, 2019
Download Kris's C1 notes

All Levels/Teaching Programs are at the ASDC
View Fee Structure
Monday:
6:30 - 7 PM: Plus Dancing
7 - 9 PM: Basic/Mainstream/Plus
9 - 9:15 PM additional Plus tip at end

First Monday of each month:
7 PM: Open House / Intro Dancing - Invite your friends!

Tuesday:
6 - 7:15 PM: C1
7:15 - 7:30PM: Full Advanced Tip (while class is running)
7:30 - 9 PM: Advanced Class Level
Check the CALENDAR for schedule changes and updates.
Our Callers:
Kris Jensen
Scott Amspoker
** For those of you considering Plus or Advanced, really understanding the
gender role which you dance less frequently is a very good thing. It will help
a lot during the class. We suggest you practice before the class starts. **

Fee Structure:
Membership Dues:
$18/month, $216/year

Non-members of Wilde Bunch or Non-Active Wilde Bunchers:
$5/night plus $1 if you are not an ASDC member

At times the Wilde Bunch Board may decide on fees for special classes or events

$21.57 ASDC yearly membership dues (due by February), $150 for lifetime membership

New Basic/Mainstream Class members pay only $10 per month after first month of class until class in done (about 5 months)

Please speak with the WB Treasurer about a payment plan.
The above classes are held at the Albuquerque Square Dance Center (ASDC)
4909-15 Hawkins St. NE, Albuquerque, NM 87109
(505-345-9797 - answering machine).

Google Maps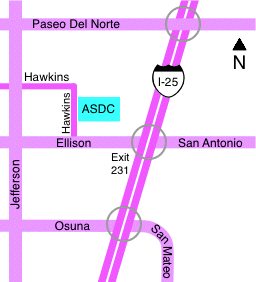 For information on C2 classes/dancing contact
Also, visit Kris' website at www.krisjensen.com